Introduction
How much do you know about which version of Android your devices are running? If you consider yourself a smartphone enthusiast, you are probably aware of the software on your phone right now, but what about all the other devices in your life? Keeping track gets even more complicated when we talk about Android forks, like Amazon's heavily tweaked Fire OS. Now with the new upcoming release of the new 2022 Fire 7 tablet, Amazon is delivering a big update, introducing the Android 11- based Fire OS 8.
What about the new operating system?
Due to arrive this summer, Amazon's new Fire 7 tablets will equip with upgraded software. According to a report on AFTV News.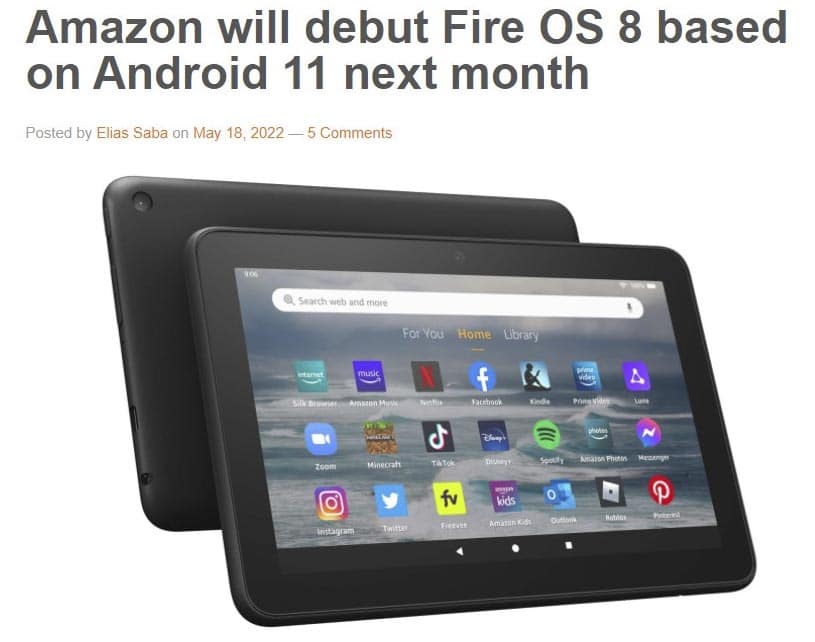 Tablets will come with Fire OS 8, an entirely new version of the Fire operating system based on Android 11. Given that Google no longer releases security patches or updates for Android 9, this will be welcome news for Fire tablet holders.
What do Fire OS 8 changes bring to the system?
As Liliputing points out, most of what Fire OS 8 changes bring to the table make to be under-the-hood security updates. But users can expect a new system-wide dark mode, which might make browsing your tablet late at night easier on the eyes. The new OS will also support HEIF or ( High Effectiveness Image File) format images, an update to JPEGs that most Apple and Android smartphones have supported since 2018.
What is HEIF?
The High-Efficiency Image Format (HEIF) is used on Apple's iPhone and comes on Google's Android. It's an ultramodern replacement for JPEG and often has the. HEIC file extension. The HEIF format produces images with smaller file sizes and advanced image quality than the older JPEG standard. HEIF images should be half the size of a JPEG image file but with better picture quality. HEIF is just better than JPEG.
The most significant hardware upgrades.
We were paying attention to the hardware — especially the long-overdue move to USB-C connectivity. But in addition to upgrades like that, the tablet will be the first to turn up running Fire OS 8 (via Liliputing).
The update of privacy controls
Fire apps will also conveniently access your device's location while running in the background, but you must first give permission. The update similarly includes a new set of privacy controls, including one-time licenses on location tracking. Check out Amazon's updated developer guide for a more exact breakdown of what to expect in Fire OS 8.
Conclusion
It is excellent news for the new Fire OS 8. but what about the rest of Amazon's existing tablet lineup? That's a much less clear situation (per The Verge), and so far, the company has yet to commit to updating plans for older hardware publicly.
See More:
Apple is testing E lnk's Electronic Paper Display (EPD)
Pixel 6 gets a big fingerprint scanner improvement on Android 13 beta 2.
Apple Accidentally Leaks Surprise Upgrades in New iPhone 14 Release
SteelSeries is offering up to 40 percent off gaming headsets and mice today.